Our Services

Pond Design & Installation
We have been designing/installing/maintaining Koi ponds since 2000 working with various other pond contractors/designers as well...since 1990 so when it comes to designing your pondscape... escape we have the know-how and the experience to get the job done for any size budget whether it be a small lily/goldfish pond with a fountain to a very large/many waterfalls/bead filter/water heated MAGAZINE WORTHY KOI POND and we are licensed plumbers so any plumbing concerns can be handled as well as auto fills and hose bib installations.
For so many years, Aquadon has been a leading company providing exceptional design and installation services to fellow landscaping contractors and homeowners across Maryland.
Pond Construction
We have worked on countless projects involving the design and construction of stunning water features (koi ponds, pools, fountains, streams, waterfalls) and landscape gardens. This means that, by hiring us, you stand to benefit from our decades' worth of skills and experience in these specific tasks. We handle small and large projects, and we have the perfect team of skilled workers using complete equipment and tools to complete their work on or before deadlines.
We service Annapolis, DC, Baltimore, Davidsonville, Severna Park, Edgewater, Towson, Gibson Island, Columbia, Potomac, Rockville, Bethesda, College Park, Easton, MD, Rehoboth, DE and neighboring cities in MD, DE and VA.
If you want to be sure that you'll get your money's worth in terms of work quality done, then contact us. We guarantee you outstanding results with the design and installation expertise that we're known for throughout the decades.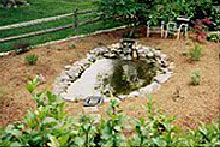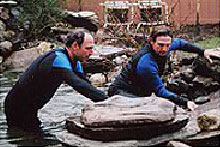 Great Water Features
It takes a truly gifted landscape designer to create stunning water and garden features that fuse aesthetic sensibility with practical merits. And when it comes to coming up with such one-of-a-kind designs, our people are acknowledged as experts by clients and fellow industry players.
Our creative team uses the best design software to render designs in full color and intricate details. It utilizes such modern tools to translate our clients' design ideas into stunning water features. We also provide such services to landscaping contractors who are handling their own projects.
Whether we're talking here of koi ponds or water gardens, we can provide the same outstanding results with the design plans that we can present to you for approval.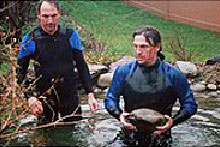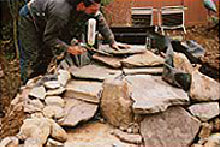 Custom Water Features
Our licensed and certified installers use their decades of experience to translate designs into actual landscape features. Our installation team has access to premium quality supplies and materials, which allows them to come up with custom water features and garden structures that are picture-perfect and magazine worthy.
Our installers are likewise provided with heavy machinery and appropriate equipment, like trench digger, backhoe, and dump trucks. These pieces of equipment help our installation team to work quickly and efficiently. With our expertise, our clients are assured of stunning outdoor features that they stand to enjoy for decades.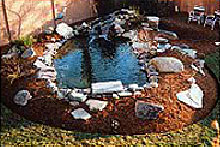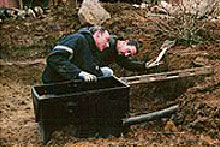 The Top Designer and Builder of Waterscapes in MD
Our design and installation services are highly regarded in the state, and we urge you to try them out for yourself. Our attention to details is one thing that allows us to effectively render exceptional designs and amazing landscape features. We also observe close working relationships with all our clients from start to finish. Such set-up lets us pinpoint their specific design needs and structural requirements in such a way that the end results are exactly what they want.
Moreover, we assure commendable results by sending only certified people on waterscape installation tasks and hiring the best creative minds to handle design projects. Best of all, our rates are not restrictive and are, actually, some of the most competitive prices in the industry. So even if clients like you have a limited working budget, we can still serve you and address your design and installation concerns.
For more details on our offered services, or for a free estimate, please call (410) 924-1208 today.
We provide ALL of our services in most of Maryland including the following counties, cities and towns (as well as the cities, towns and surrounding areas of those listed in Virginia):
Anne Arundel County
Baltimore County
District of Columbia D.C.
Davidsonville, MD
Severna Park, MD
Edgewater, MD
Towson, MD
Gibson Island, MD
Columbia, MD
Potomac, MD
North Prince Georges County
South Prince Georges County
Rockville, MD
Bethesda, MD
College Park, MD
Bowie, MD
Crofton, MD
Chestertown, MD
Kent County
Howard County
Glen Burnie, MD
Falls Church, VA
Alexandria, VA
Green Belt, MD