Our Services

Koi Ponds Kent Island, MD
If you're thinking of installing ponds for your outdoors but are quite undecided until now, then we suggest going for koi ponds. These outdoor amenities count as among the best property improvements that any property owner can have. They cost relatively cheap to build, are low maintenance, and offer a stunning touch to any outdoor space. Whether we're talking of a small pond or a fairly large one, they are great add-ons to any Kent Island, Chester, Grasonville, Easton, and Centreville property. And if you want one for your own yard, then just contact us and we will be ready to discuss more details with you.
Koi Pond Design Options
The choice of design is crucial to having koi ponds that stand out in terms of appeal and functionality. Accordingly, we guide our clients through determining the ideal design for their specific needs and their particular landscape orientation and themes. Property owners like you may choose from any of the following pond designs: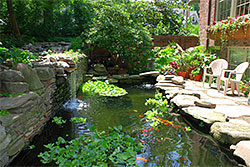 Hybrid. This futuristic approach to pond installation incorporates elements of a nature-inspired (ecosystem) pond with a modern one. Among its benefits are improved water clarity, a longer lifespan for koi, and a healthier environment for both fishes and some aquatic plants. If you have a contemporary-themed property, then this will be a perfect addition to it.


Modern. As the name implies, modern koi ponds have a sophisticated touch and some pretty cool technologies, like lighting and advanced filtration systems. They are easy to clean and maintain, although they initially cost more than other koi pond types.


Ecosystem. For those who want an authentic natural pond look, an ecosystem pond is their logical pick. Its simplistic construction and subtle beauty are huge draws for those with flair for nature. If your property has a laid-back design, then go for this option.


Professional Koi Pond Installation
For property owners in Kent Island, MD and nearby areas who are in the hunt for a reliable koi pond installer, the search ends here.
We at Aquadon Pond Services have installed all types of koi ponds for small properties to large ones across the state. Our premium creations are noted for their complete features – from plants to filtration systems that will ensure your koi fishes will thrive well. We also use the best materials possible, such as natural stones or boulders, bog plants, and other accessories. We also add certain accents, such as driftwood, a mini waterfall, pond lighting, and any other add-on that you can think of.
Aside from our installation service, we also guide property owners on how to take care of their koi ponds so they will have a keen sense of ownership and accountability. And when they need professional service to check for filtration systems, pumps, leakage, and the like, we are just one phone call away.
All of these are part of our aim to provide our valued clients with a comprehensive service for their convenience and satisfaction.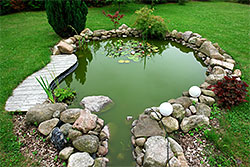 Call Maryland's Pond Specialists
If you wish to know more about our rates or how we can realize your dream koi ponds, please don't hesitate to contact us. Whether you live in Kent Island or in other city that we serve, we can surely pay you a visit to have better understanding of your specific ideas and design requirements. Together, we can help make your outdoors more enticing by installing the best possible koi pond. NOTE: Our building seasons are Winter: December-March and Mid-Summer: June-August.
We provide ALL of our services in most of Maryland including the following counties, cities and towns (as well as the cities, towns and surrounding areas of those listed in Virginia):
Anne Arundel County
Baltimore County
District of Columbia D.C.
Davidsonville, MD
Severna Park, MD
Edgewater, MD
Towson, MD
Gibson Island, MD
Columbia, MD
Potomac, MD
North Prince Georges County
South Prince Georges County
Rockville, MD
Bethesda, MD
College Park, MD
Bowie, MD
Crofton, MD
Chestertown, MD
Kent County
Howard County
Glen Burnie, MD
Falls Church, VA
Alexandria, VA
Green Belt, MD