Our Services

Koi Ponds
Koi ponds are among the rare outdoor additions that can enhance the beauty and functionality of a landscape. It's a nice touch to any landscape with its graceful and tranquil appeal that can soothe tired body and mind. Just imagine coming home and stretching out in a comfortable lounging chair and watching colorful fish swim gracefully. Moreover, ponds have proven to be a successful way to raise the value of real estate property. They give the impression that a house has been well-maintained and would therefore be a good investment. NOTE: Our building seasons are Winter: December-March and Mid-Summer: June-August.
We service Annapolis, DC, Baltimore, Davidsonville, Severna Park, Edgewater, Towson, Gibson Island, Columbia, Potomac, Rockville, Bethesda, College Park, Easton, MD, Rehoboth, DE and neighboring cities in MD, DE and VA. Call us at (410) 924-1208.
The Basics of Koi Ponds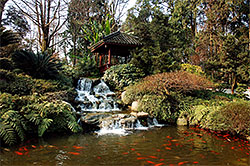 In principle, koi ponds can be modestly sized or large depending on your preference. The dimensions and sometimes even the design of ponds will partly depend on the terrain where they are to be built. Choosing the most favorable site for a pond is a very critical matter. First of all, the pond should be visible from as many vantage points as possible so that it can be enjoyed from a bedroom window, a patio, or a dining room.
Aside from maximum visibility, a pond also has certain technical requirements. For example, a good koi pond has to be built on a site that allows good bottom drainage to keep the ecosystem healthy, and it also has to be constructed where it can be protected from excessive water run-off. Good koi ponds are those that remain trouble free and low on maintenance. This can only come about when a pond is built at the right location by experienced people, like the ones we employ at Aquadon.
Our Systematic Koi Pond Installation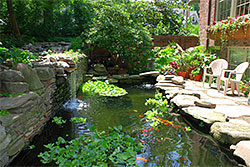 At Aquadon, we create koi ponds that will be more than just plain water features in your property. We can ensure that the stones, rocks, and plants that we'll use will produce the atmosphere that you want. We won't just dig a hole and plaster it with cement and waterproofing; instead, we will place a drainage system that includes good bottom drains, reliable settling chambers, and an efficient filtration system to prevent your pond from becoming a cesspool.
As experienced installers, we will make sure your pond drains out onto a safe and suitable area in your yard. We also have well-trained people who can ensure that the pond has appropriate temperature throughout the year to keep fish and plants healthy.
Beautiful Koi Ponds by Experts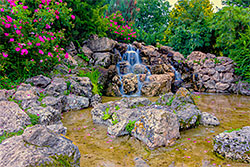 At Aquadon, we understand that a koi pond is a subtle expression of your personality and creative flair; that's why our pond designers will listen carefully to capture the essence of your dream pond. More than this, however, we have the experience and technical expertise that building such a structure requires. We use only the best filtration materials, pumps, and pipes to build koi ponds, which makes our ponds truly exceptional.
Our two decades of experience in the business has enabled us to establish the resources needed to provide you with the plant varieties and accessories that you want. We will also give you the knowledge you need to keep a well-balanced environment for your koi.
Call (410) 924-1208 if you want to have stunningly designed and professionally built koi ponds within your landscape. Building just the right pond for your Maryland property will be our pleasure. NOTE: Our building seasons are Winter: December-March and Mid-Summer: June-August.
We provide ALL of our services in most of Maryland including the following counties, cities and towns (as well as the cities, towns and surrounding areas of those listed in Virginia and Delaware):
Anne Arundel County
Baltimore County
District of Columbia D.C.
Davidsonville, MD
Severna Park, MD
Edgewater, MD
Towson, MD
Gibson Island, MD
Columbia, MD
Potomac, MD
North Prince Georges County
South Prince Georges County
Rockville, MD
Bethesda, MD
College Park, MD
Rehoboth, DE
Bowie, MD
Lewes, DE
Crofton, MD
Chestertown, MD
Kent County
Howard County
Glen Burnie, MD
Falls Church, VA
Alexandria, VA
Dover, DE
Green Belt, MD