Our Services

Water Garden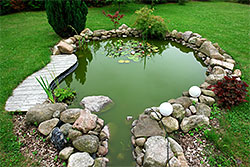 Among the most ideal additions to any landscape are water gardens. These outdoor features can be perfect relaxation spots where one can feel closer to nature. Meanwhile, the sheer beauty of all water plants is enough to soothe one's mind and induce moments of pleasant stillness and meditation. Additionally, they could also enhance the aesthetic appeal of any landscape and leave a favorable and lasting first impression among guests.
We service Annapolis, DC, Baltimore, Davidsonville, Severna Park, Edgewater, Towson, Gibson Island, Columbia, Potomac, Rockville, Bethesda, College Park, Easton, MD, Rehoboth, DE and neighboring cities in MD, DE and VA. Call us at (410) 924-1208.
Our Recommended Pond Plants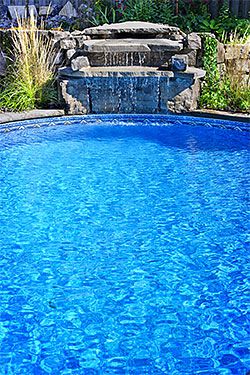 At Aquadon, we only recommend the best plants for water gardens to ensure favorable results. Typically, we let our Maryland clients choose from any of these water plants.
Preferred Water Garden Plants
Lotus – This 'mystical' water plant is a must-have in any water garden. It's known for its elegant bloom and ability to grow to astonishing 6 feet. Lotus blooms all throughout the summer season and has a characteristic large flower.


Swamp lily – Among our personal favorites are swamp lilies. These native North American plants produce blooms of pink and white flowers, closely resembling lilies. They thrive during the spring to fall season and are characterized by their pleasant scent.


Cattail – This interesting water plant species grows up to 6 feet and has characteristic fuzzy brown bloom, with grassy leaves that look stunning.


Japanese iris – This water plant has a picture-perfect flower that resembles brushstroke color palette. It grows up to 3 feet tall and has a dinner-plate-sized bloom.


Papyrus – This legendary plant exudes a tropical look with its slender stem. It can reach height of up to 6 feet.


Cardinal flower – Fancy some hummingbirds in your water garden? Then have the cardinal flower as one of your mainstays. This species blooms late in summer and is typically used as edging for water gardens.


Water lily – This must-have water plant has varieties that bloom either during the day or at night. It comes in hardy or tropical variety and grows up to 6 feet wide.


Back to the Roots Water Garden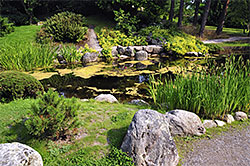 Meanwhile, if you wish to have not just plant species in your water garden, we can provide any or all of these wonderful accents:
Koi fish
Waterfalls
Large boulders
Pond Statues
These stone accents can add beauty and functionality to water gardens, aside from creating a striking contrast with the various plants on them.
The Best Spots for Your Water Garden
There are specific areas around a property where water gardens are ideally built. For one, they can be installed near a patio to achieve more relaxing appeal. It is also recommended to have one close to a fireplace or fire pit for a truly interesting contrast. We can likewise build a water garden just beside a pool for a harmonious effect. And if you want to have one close to your outdoor kitchen so you can enjoy a relaxing meal, then we can build one for you by all means.
Get Your Dream Water Garden by Hiring Us Today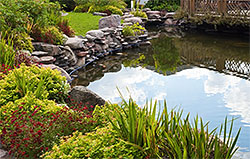 With several dozens of completed water gardens for numerous Maryland property owners, we can definitely build one for your landscape. With skilled people using appropriate tools and the finest materials, we guarantee you a water garden that will make your property a better place to spend time at with your family, friends, or guests. NOTE: Our building seasons are Winter: December-March and Mid-Summer: June-August.
Call (410) 924-1208 today.
We provide ALL of our services in most of Maryland including the following counties, cities and towns (as well as the cities, towns and surrounding areas of those listed in Virginia):
Anne Arundel County
Baltimore County
District of Columbia D.C.
Davidsonville, MD
Severna Park, MD
Edgewater, MD
Towson, MD
Gibson Island, MD
Columbia, MD
Potomac, MD
North Prince Georges County
South Prince Georges County
Rockville, MD
Bethesda, MD
College Park, MD
Bowie, MD
Crofton, MD
Chestertown, MD
Kent County
Howard County
Glen Burnie, MD
Falls Church, VA
Alexandria, VA
Green Belt, MD