Our Services

Pond Lighting Centreville, MD
We at Aquadon Pond Services are Maryland's acknowledged pond specialists with decades of collective experience behind our name. We have served countless Centreville, Chester, Easton, Grasonville, and Kent Island clients, and we can definitely serve you, too. Our areas of expertise include installing various pond lighting fixtures for commercial and residential properties across the state. Our portfolio of completed tasks serves as proof of our high level of commitment to customer satisfaction and adherence to the best industry practice. Should you have questions or concerns regarding this highly specialized service, please contact us immediately.
Unique Ponds with the Right Lighting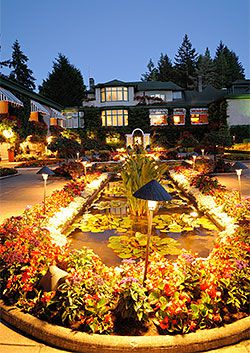 Sure, a pond can already wow onlookers and make any outdoors more enticing to spend time at with family, friends, or guests. But why not go the extra step and turn your landscape into a veritable showstopper by having lighting fixtures installed in your pond?
Our company has been creating extraordinary ponds -- from designs up to installation. And we can add outdoor lighting fixtures to make any pond stand out even more. We use high-quality lighting, such as premium LEDs and other submersible lighting products. They are available in different designs, colors, and sizes that allow us to achieve dramatic effects on our clients' ponds. The sources of our pond lighting are trusted manufacturers, so you won't have to worry about their performance.
By carefully choosing the right lighting, our personnel can achieve the mood and ambience that you desire for your outdoors. Come nighttime, your landscape will be turned into a haven of rest and relaxation that you and your family or guests will appreciate and enjoy for decades to come.
Pond Lighting Experts
At Aquadon Pond Services, we have certified people who will take charge of the installation of the lighting fixtures to ensure successful and fast completion of the project. Our people follow a systematic and proven approach to installation, so no time is wasted; and the results are guaranteed positive. In fact, we have several clients from Centreville, MD and other select cities in the state who can testify to the quality of our installation.
Pond Lighting Repair and Maintenance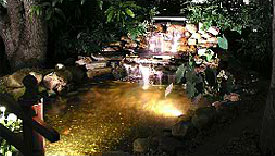 Aside from installation, we also handle all pond lighting repair jobs. If you have an emergency concern, please feel free to call us, and we will promptly send a certified technician to fix the specific lighting issue that you have.
Moreover, we accept maintenance tasks concerning pond lighting. Ensuring that your various lighting fixtures are functioning greatly and in good condition is vital to making them last long. It also prevents costly repairs or replacement jobs.
Hire Maryland's Pond Lighting Experts
If you want to be sure of positive outcomes, then call Aquadon Pond Services today at (410) 924-1208. We serve Centreville and other Maryland cities. Our people are skilled and committed to provide clients like you with the best pond features possible. Best of all, we have low rates to accommodate clients with a limited budget.
We look forward to making your outdoors more stunning, especially at night, with creatively designed and professionally installed pond lighting.
We provide ALL of our services in most of Maryland including the following counties, cities and towns (as well as the cities, towns and surrounding areas of those listed in Virginia):
Anne Arundel County
Baltimore County
District of Columbia D.C.
Davidsonville, MD
Severna Park, MD
Edgewater, MD
Towson, MD
Gibson Island, MD
Columbia, MD
Potomac, MD
North Prince Georges County
South Prince Georges County
Rockville, MD
Bethesda, MD
College Park, MD
Bowie, MD
Crofton, MD
Chestertown, MD
Kent County
Howard County
Glen Burnie, MD
Falls Church, VA
Alexandria, VA
Green Belt, MD