Our Services

Pond and Waterfall — Washington, D.C
Pond Construction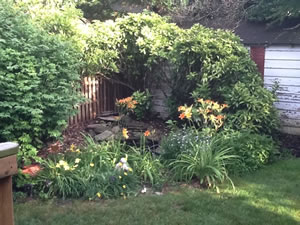 Aquadon Pond Services upgraded the pond at Kay's home in Washington DC. We enlarged the existing pond from 4' x 7' x 2' to a 14' x 8' x 3'. To accomplish this we had to demolish the existing pond and remove the debris and then install the larger pond.
This is an image of what the pond looked like before. As you can see it was pretty small and hidden.
Kay's Comments: To get my pond working again, I contacted Aquadon, and Don promptly came to my home, assessed needed repairs and enhancements, and made recommendations with cost estimates. From demolition to completion, I witnessed "old school" professional ethics, hard labor, and skilled workmanship.
Pond Lights
Kay had us recreate some of the appearance of the old pond, particularly, a "wall" effect around the pond underneath the capstones, as well as the latest pond-lighting technology, consisting of LED color-changing, remote-control-operated lights.
For more details on our offered services, or for a free estimate...
Please follow instructions on the Contact Us page . . .
We service Annapolis, DC, Baltimore, Davidsonville, Severna Park, Edgewater, Towson, Gibson Island, Columbia, Potomac, Rockville, Bethesda, College Park, Easton, MD, Rehoboth, DE and neighboring cities in MD, DE and VA. Dial (410) 924-1208 today.
Pond Waterfall and Pond Filters
The original pond had no filtration, but merely a pump in the bottom of the pond returning water over a small waterfall.
The new pond has a skimmer so that the pump is protected and leaves are filtered out. Water is pumped from the skimmer to the waterfall through three stages of filtration:
(1) UV filter, which eliminates green suspended algae from the water traveling to the bioballs, which contain the second and third types of filtration:
(2) mechanical, consisting of filter pads, which eliminate solid debris; and
(3) biological, consisting of bio-floss contained in a mesh bag, which works by allowing living bacteria to grow on its surface and to absorb nutrients that common algae use for their growth.
Pond Maintenance and Cleaning
Kays' Comments: Don provided the type of pond that I wanted – easy to clean and maintain – which the original contractor did not provide. The arrangement of the large border and shelf rocks around the pond and the waterfall tiers, with colored lights reflecting at night, added to my delight. In addition, if I had any question or possible issue, he immediately came to check and make any necessary adjustments.
Pictures of the Pond and Waterfall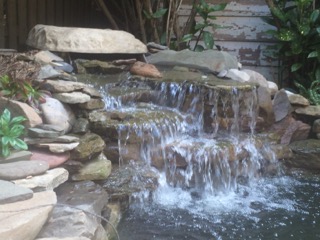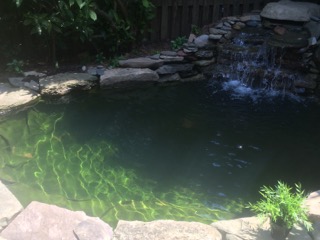 If you want to be sure that you'll get your money's worth in terms of work quality done, then contact us. We guarantee you outstanding results with the design and installation expertise that we're known for throughout the decades.
For more details on our offered services, or for a free estimate...
Please follow instructions on the Contact Us page . . .
We provide ALL of our services in most of Maryland including the following counties, cities and towns (as well as the cities, towns and surrounding areas of those listed in Virginia):
Anne Arundel County
Baltimore County
District of Columbia D.C.
Davidsonville, MD
Severna Park, MD
Edgewater, MD
Towson, MD
Gibson Island, MD
Columbia, MD
Potomac, MD
North Prince Georges County
South Prince Georges County
Rockville, MD
Bethesda, MD
College Park, MD
Bowie, MD
Crofton, MD
Chestertown, MD
Kent County
Howard County
Glen Burnie, MD
Falls Church, VA
Alexandria, VA
Green Belt, MD