Our Services

Koi Pond Lighting
Lighting a Koi Pond/pondscape/back yard get-away is a delicate affair depending on your personality/taste/amount of entertaining done/budget so once again we designing and install the system that is right for you with the forethought of possible upgrades...there are many ways to get this done but for sure get all your HARDSCAPE/PONDSCAPE/MAJOR HOME-IMPROVEMENTS/ and LANSCAPING done first before you add lighting.... and once again we can go from a few trail lights to full blown color changing /remote controlled /sound activated night-club worthy commercial system.
For property owners who are in the hunt for professional pond lighting installers, Aquadon is their best pick among all competing companies. We've been in the business long enough to develop our expertise and knowledge of the various lighting fixtures and techniques that would enhance the beauty of any pond, big or small. Our portfolio includes some of the best waterscapes that you can find in the state, and we're confident that we can wield the same magic to transform your property.
We service Annapolis, DC, Baltimore, Davidsonville, Severna Park, Edgewater, Towson, Gibson Island, Columbia, Potomac, Rockville, Bethesda, College Park, Easton, MD, Rehoboth, DE and neighboring cities in MD, DE and VA.
When you dial (410) 924-1208 today, you'll become a step closer to enjoying a stunning pond that is dramatically illuminated at night by our professionally installed lighting system.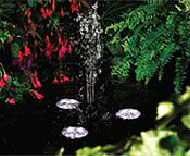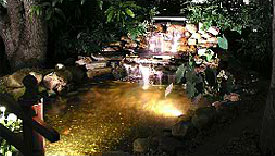 What Makes Our Pond Lighting Exceptional?
While we do acknowledge that there are many good landscape lighting providers in the state, we know that we possess some great advantages, nonetheless. For one, we only use state-of-the-art lighting technologies in all our projects -- from a few trail lights to full-blown-color-changing, remote-controlled, and sound-activated lights that can render a captivating effect to any Koi or goldfish pond.
We take special pride in our use of Radiance led lights, a revolutionary lighting technology that allows us to light both over and under the water line. Radiance LEDs are extremely energy efficient, yet emit very powerful light without heating up (which means that they are fish and plant friendly). These LED products also have incredible 50,000 hours of bulb life, making them truly cost-efficient solutions. They are also very versatile since they can also be used in mini-waterfalls, man-made streams, water bowls, and even pools.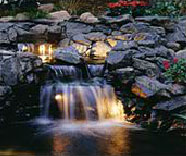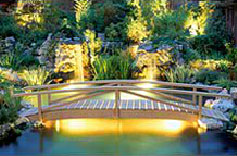 Premium Submersible Pond Lighting Products
A great example of our submersible/pond lighting services is installing excellent fixtures, such as LED lights. But aside from them, we also install other brands of landscape lights that can be submerged under water. The effect that these pond lights provide is truly dramatic and utterly captivating, which is why many of our clients love them.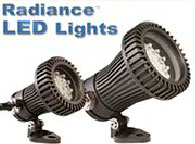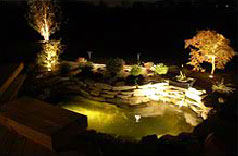 Maryland's Finest Pond Lighting Experts
We're not your 'run-of-the-mill' landscape lighting contractors. Instead, we are among the rare few who can assure Maryland clients of positive results in every project that we handle. We have a highly creative way of installing pond lights to ensure optimum visual appeal. We can also achieve different themes and evoke various moods just by combining different landscape lights. No matter how you want your pond or waterfall to be lit, we can surely achieve it.
We are likewise very reliable since we have as our staff some of the most experienced lighting installers in the industry. Our people undergo constant training to help them track emerging trends in landscape lighting and to apply the same knowledge to their current projects. We also have some of the lowest rates in the industry, and we are also willing to make certain compromise just to accommodate you.
With all these great characteristics, it's surely a win-win situation for you. So call us today and let us know how you want us to light your pond and other water features in your property.
Dial (410) 924-1208 today.
We provide ALL of our services in most of Maryland including the following counties, cities and towns (as well as the cities, towns and surrounding areas of those listed in Virginia):
Anne Arundel County
Baltimore County
District of Columbia D.C.
Davidsonville, MD
Severna Park, MD
Edgewater, MD
Towson, MD
Gibson Island, MD
Columbia, MD
Potomac, MD
North Prince Georges County
South Prince Georges County
Rockville, MD
Bethesda, MD
College Park, MD
Bowie, MD
Crofton, MD
Chestertown, MD
Kent County
Howard County
Glen Burnie, MD
Falls Church, VA
Alexandria, VA
Green Belt, MD