Our Services

Pond Cleaning Annapolis, MD
Aquadon Pond Services provides expert pond cleaning service to Maryland property owners, particularly those who are residing in the Annapolis and Baltimore areas. Our more than two decades of experience in pond installation and maintenance is our assurance to you that we can handle and provide efficient solutions to your pond problems. Please contact us today so we can have an onsite inspection and determine the specific needs of your ponds.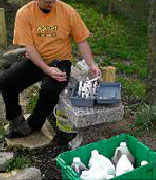 Expert Pond Cleaning
Your pond needs regular cleaning to maintain its beauty and ensure the health of the aquatic plants and fishes. However, there are times that you may not be able to perform this very important task. This could be due to a very busy work schedule, or you don't have the needed tools for pond cleaning.
If this is your case, call us at Aquadon Pond Services. We have the expertise and the required tools and equipment to perform various pond cleaning tasks. We have already handled different kinds of pond problems, and we're able to provide efficient solutions to these problems. In fact, we are getting referrals and recommendations from our past and present Annapolis clients because of the outstanding work that we provided them with.
The Right Pond Cleaning Tools and Equipment
Our crews are all equipped with the right tools and equipment whenever they perform a pond cleaning job. This is to ensure that all issues and concerns are immediately addressed at the site. As a result, our personnel can complete the cleaning job faster and with positive results.

Aside from the common pond cleaning tools, we also have equipment such as filtration systems, vacuums, pumps, and the like. These tools and equipment allow us to tackle even the most challenging problems in your ponds. We also have the necessary supplies and other materials that may be needed during the cleaning process.
Proven Pond Cleaning Methods
At Aquadon Pond Services, we can put a new life to your ponds with our proven pond cleaning methods. We use specific techniques and strategies for each kind of pond that we are tasked to rejuvenate. For example, we will be more cautious about cleaning koi ponds because of the sensitive nature of koi fishes. Meanwhile, cleaning a garden pond is a little bit easy, but we still ensure that your bog plants will not be harmed or damaged during the cleaning process.
We also follow a systematic process to ensure efficient workflow. Our crews will not take shortcuts just to speed up their tasks. Instead, they will perform all the required procedures and work in an orderly manner to ensure successful completion of the project. With us, you don't have to worry about having a messy lawn or landscape during and after the cleaning job.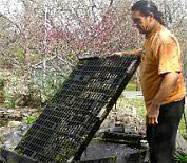 This systematic approach is one of the reasons why most property owners in Annapolis, MD prefer us over our competitors. They are assured of a properly cleaned and maintained pond without the mess in their outdoors.
Hire MD's Expert Pond Cleaners
Don't let inexperienced contractors handle the maintenance needs of your ponds. Trust only in pond experts like us at Aquadon Pond Services. With hundreds of completed projects in our portfolio, we are certainly your best choice for all types of pond cleaning and maintenance works. Call us today at 410-924-1208, or visit us at our office so we can discuss how we can bring back the life and beauty of your water features.
We provide ALL of our services in most of Maryland including the following counties, cities and towns (as well as the cities, towns and surrounding areas of those listed in Virginia):
Anne Arundel County
Baltimore County
District of Columbia D.C.
Davidsonville, MD
Severna Park, MD
Edgewater, MD
Towson, MD
Gibson Island, MD
Columbia, MD
Potomac, MD
North Prince Georges County
South Prince Georges County
Rockville, MD
Bethesda, MD
College Park, MD
Bowie, MD
Crofton, MD
Chestertown, MD
Kent County
Howard County
Glen Burnie, MD
Falls Church, VA
Alexandria, VA
Green Belt, MD