Our Services

PONDS by Aquadon
Pond Services
At Aquadon Pond we have been providing our residential and commercial clients with the following services for over 20 years: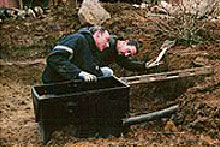 Pond Design & Installation
We have been designing and installing stunning water features such as Koi Ponds, Waterfalls, Fountains and Ponds with great success. Our team of designers and contractors will custom design and install a water feature for your property. Read More >>
We service Annapolis, DC, Baltimore, Davidsonville, Severna Park, Edgewater, Towson, Gibson Island, Columbia, Potomac, Rockville, Bethesda, College Park, Easton, MD, Rehoboth, DE and neighboring cities in MD, DE and  VA.
CALL US: (410) 924-1208
Waterfalls & Upgrades
When it comes to waterfalls and any upgrades needed, we are the right company for you. Let us get your water features working properly so that you can sit back and enjoy their serenity. Read More >>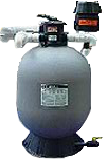 Pond Filtration
At Aquadon we use only the best quality filters for your filtration systems. We understand that using good products will result in better results and better working order. Let our professionals install or repair your filtration systems today. Read More >>
Pond Lighting
When it comes to the lighting of your water features, it really is best left to an experienced company like ours. We have the knowledge and expertise to use the right type of lighting for your various types of features including fountains, waterfalls and Koi ponds. Read More >>
Year Round Maintenance
Not only do we design and install water features, but we also provide year round maintenance services. We will work out a regular maintenance plan so that your water features work their best the whole year. Read More >>
CALL US: (410) 924-1208
Pond Cleaning
It can be quite a time consuming task when it comes to pond cleaning. But you do want your ponds to look clean and fresh. Let our team of professionals clean your pond on a regular basis. Read More >>
Water Gardens
if you are thinking of installing a water garden and are wondering what type of plants to use then contact Aquadon today. Our team members have all the knowledge and experience needed to create the perfect water garden for your property. Read More >>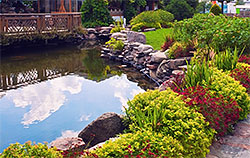 Garden Ponds
Are you looking for something to give your garden a lift and some extra added appeal? Then how about installing a garden pond? Your landscapes will not only look great but also have that special feel and ambiance that water adds to any landscape setting. Read More >>
Koi Ponds
At Aquadon we have been designing and building beautiful Koi Ponds for many years. No matter how large or small you want your Koi pond to be; we will do the job for you and you will be amazed at the end result.NOTE: Our building seasons are Winter: December-March and Mid-Summer: June-August. Read More >>
We provide ALL of our services in most of Maryland including the following counties, cities and towns (as well as the cities, towns and surrounding areas of those listed in Virginia):
Anne Arundel County
Baltimore County
District of Columbia D.C.
Davidsonville, MD
Severna Park, MD
Edgewater, MD
Towson, MD
Gibson Island, MD
Columbia, MD
Potomac, MD
North Prince Georges County
South Prince Georges County
Rockville, MD
Bethesda, MD
College Park, MD
Bowie, MD
Crofton, MD
Chestertown, MD
Kent County
Howard County
Glen Burnie, MD
Falls Church, VA
Alexandria, VA
Green Belt, MD