Our Services

Pond Waterfalls & Filter Systems
Upgrading Water Quality with Waterfall and Other Techniques
A large staple of our clients have come from referrals by various koi fish/pond suppliers and fish store owners as well as contractors/designers in which an existing pond owner that purchased a "landscaper special" is unhappy with the performance /water quality of their pond so we come in and add a waterfall/larger fountain/aeration system/skimmer - biofalls/auto fills/bead filter/ultra-violet filter/lighting system.....whichever is needed and/or can be afforded...our best upgrades are a-little-each-year ones that way we don't break the bank and yet can progressively work toward a pond that is not only beautiful but easier to maintain.
Beautiful Waterfall
Aquadon specializes in providing professional waterscape services, particularly in installing stunning waterfalls and upgrades of water filter systems. We have been rendering expert assistance to commercial and residential property owners with positive results for years. We are among the most reliable contractors in the state, and we have an extensive portfolio of successfully completed projects to back up our claim.
We service Annapolis, DC, Baltimore, Davidsonville, Severna Park, Edgewater, Towson, Gibson Island, Columbia, Potomac, Rockville, Bethesda, College Park, Easton, MD, Rehoboth, DE and neighboring cities in MD, DE and VA.
Call (410) 924-1208 today.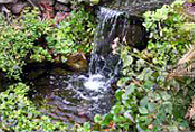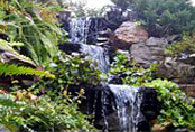 Exquisite Waterfalls
Among the most sensible investments that you can have are waterfalls. These water features will make your outdoors inviting and attractive. A waterfall is also a truly relaxing thing to see after a long day, and it can serve as a great conversation piece among you and your friends or guests.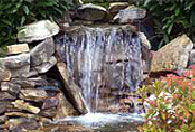 Our company renders expert redesigns of ponds by adding waterfalls. With a waterfall added to a koi pond or goldfish pond, it can be more eye-catching. We can build the falls as a single tier feature or even three-tiered if you want so. We have been installing such outdoor features for years, and we have made countless property owners across Maryland truly delighted with the benefits that they provide.
Just tell us exactly how you want these water features built, and we will follow your design requirements to the letter.
Pond Filter System by the Experts
Meanwhile, we also provide specific landscape upgrades that are meant to make outdoor features more functional. Specifically, you can hire us to provide these professional services: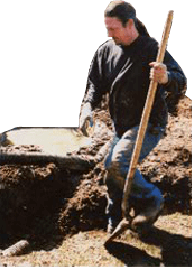 Adding a larger fountain or/and aeration system – If you're not happy with your current fountain's size, we can install a larger one with the exact dimensions that you desire. Meanwhile, we can also install an aeration system that will keep muck and suspended solids away from your pond or waterfalls. This device can help make your pond clearer and healthier so it's worth the investment.


Skimmer-Biofalls – We install pond filtration systems that can keep such water feature clean of debris, toxins, dirt, and waste that could seriously affect its performance. Whether it's a Skimmer (a mechanical-type filter) or a Biofall (a biological filter), we have the trained people who can ensure that the filters are properly installed and 100 percent functional.


Auto-fills – It is basic to maintain a proper water level in ponds and water gardens. And one of the easiest and most convenient ways to do it is to install auto-fills. These devices are meant to supply the right volume of water to the water features without any manipulation from the owners.


Bead filter – With the right bead filter, you can have crystal clear pond water all year long. Accordingly, we can install the best brand and model available and even teach you basic maintenance tips so you can keep it functional.


UV filters – A great way to keep ponds and other water features clean and free of algae is to use UV filters. This is a relatively safe system that doesn't have negative effects on the environment or the fishes in a pond.


Lighting systems – Ponds, waterfalls, fountains, and other water features will look more stunning at night when you have a professionally installed lighting system. We can achieve for you specific effects, using premium quality submersible lights and other outdoor lighting fixtures.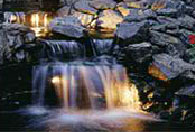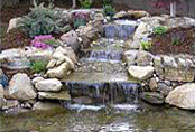 Give Us a Call
When it comes to waterfalls and upgrades concerns, we at Aquadon are your best options. We are experts in these outdoor improvement tasks, and we can assure you of clean and healthy water features all year long at a price that's affordable.
Contact us today at (410) 924-1208.
We provide ALL of our services in most of Maryland including the following counties, cities and towns (as well as the cities, towns and surrounding areas of those listed in Virginia and Delaware):
Anne Arundel County
Baltimore County
District of Columbia D.C.
Davidsonville, MD
Severna Park, MD
Edgewater, MD
Towson, MD
Gibson Island, MD
Columbia, MD
Potomac, MD
North Prince Georges County
South Prince Georges County
Rockville, MD
Bethesda, MD
College Park, MD
Rehoboth, DE
Bowie, MD
Lewes, DE
Crofton, MD
Chestertown, MD
Kent County
Howard County
Glen Burnie, MD
Falls Church, VA
Alexandria, VA
Dover, DE
Green Belt, MD