Our Services

Pond Maintenance—Year Round
For those of you who have had much success or have gotten older or just want to take a break from your POND CHORES lifestyle we also offer year round maintenance to handle your particular case there is no pond that is "MAINTENANCE FREE" So beware any that try to sell you this rumor A pond is a living/ functioning /man made /natures replica bio-system and depending on your system there will always be some work/maintenance involved our normal maintenance service is once a month... increasing to 2x a month in late summer/early autumn but we can also do up to 4x a month ...and/or "WATCH YOUR POND" while you are on vacation.
There is no doubt that ponds provide much beauty and pleasure. However, there are times when even the most successful hobbyist needs to take a break from the chores involved in maintaining a pond. Sometimes people need help because their work schedules no longer permit them to regularly attend to pond duties, while some people find themselves away from home for long periods because they do a lot of travelling. Quite a few pond owners manage to keep their ponds in excellent condition for years, and then they come to realize that it's time to slow down and take things easy.
All these situations doesn't mean that a pond should fall into neglect. At Aquadon, we provide year-round maintenance so pond owners can continue to enjoy their favorite water feature, even when it is not possible for them to do the various chores they may have successfully carried out in the past.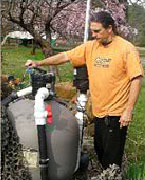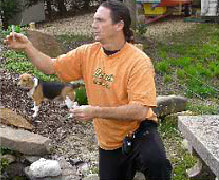 We service Annapolis, DC, Baltimore, Davidsonville, Severna Park, Edgewater, Towson, Gibson Island, Columbia, Potomac, Rockville, Bethesda, College Park, Easton, MD, Rehoboth, DE and neighboring cities in MD, DE and VA. Call us at (410) 924-1208.
What Pond Maintenance Entails
At Aquadon, we know exactly what proper pond maintenance entails. That's why we see to it that the needed tasks are provided and performed efficiently. Our men also ensure the perfect balance of plants, nutrients, and fish within the system. With this kind of service, our clients will get worry-free, year-round maintenance of ponds and other water features in their properties.
Pond Cleaning and Maintenance
Here are some of our usual recommendations when performing various pond maintenance tasks for our Maryland clients: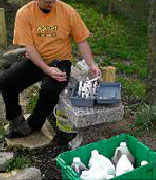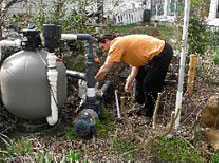 Spring. In spring, the pond bottom has to be cleaned, sometimes by draining it and hosing down the muck that is sure to gather there over time. Water lilies have to be divided or repotted, while frost-sensitive plants have to be removed from storage and returned to the pond. If the pump and filters have been removed during winter, they need to be reinstalled.


Summer. In summer, when the temperature goes up, the pond's water chemistry has to be tested weekly. Plants need to be trimmed, debris and dead leaves have to be removed, and filters and pumps have to be regularly checked for clogs. Any fish in residence has to be checked for sores or unusual behavior, and plant pests have to be controlled. If necessary, fertilizer should be applied to the potted plants, but care should be given that this does not result in overgrowth of algae.


Fall. It is the time to conscientiously skim off falling leaves; cold-sensitive plants and fish need to be taken indoors; and pumps and filters need to be disconnected and placed in storage.


Winter. Finally, in winter, a pond needs a constant air hole with a bubbler or an air stone to provide oxygen for the fish and keep the water from freezing over.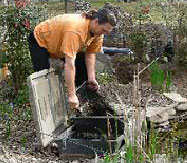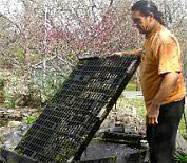 Pond Care Made Easy for You
Ponds are living ecosystems that need to be tended on a regular basis. When you hire Aquadon, you are rest assured that your ponds will also get the tender loving care that you're giving them for years. Depending on your requirements, we can provide you with normal once-a-month maintenance or offer you our year-round maintenance program for the best results.
Having professionals look after your pond will guarantee that it will be in excellent condition all the time. Call us at (410) 924-1208, and we will make it possible for you to enjoy the benefits of having great water features with our year-round maintenance services.
We provide ALL of our services in most of Maryland including the following counties, cities and towns (as well as the cities, towns and surrounding areas of those listed in Virginia):
Anne Arundel County
Baltimore County
District of Columbia D.C.
Davidsonville, MD
Severna Park, MD
Edgewater, MD
Towson, MD
Gibson Island, MD
Columbia, MD
Potomac, MD
North Prince Georges County
South Prince Georges County
Rockville, MD
Bethesda, MD
College Park, MD
Bowie, MD
Crofton, MD
Chestertown, MD
Kent County
Howard County
Glen Burnie, MD
Falls Church, VA
Alexandria, VA
Green Belt, MD