Our Services

Pond Cleaning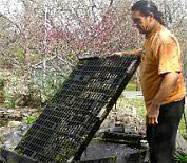 One of the most important maintenance procedures required for a healthy pond is regular cleaning. Whether we're talking of a koi pond or a fish pond, pond cleaning should be an integral part of any property owner's to-do list. Ensuring that your pond is cleaned and gets rid of dried leaves, algae, debris, and other contaminants will guarantee the health of your fish and aquatic plants. Regular cleaning will likewise make your pond presentable and inviting – which is a definite plus for any commercial or residential property.
Our Pond Cleaning Methods
Throughout the years, our pond cleaning service has made numerous property owners in Maryland and surrounding areas happy with the exceptional results that we provide.
Our method includes a meticulous checkup of pumps, filters, liners, and other pond filter components. We can perform replacements and repairs if needed to ensure that your pond filtration system works flawlessly each time. We will also ensure that every spot on your pond is free of debris, such as dead leaves and algae. Only when you are finally satisfied with the outcome do we call it a finished job. Accordingly, you can choose between weekly, semi-monthly, monthly, or any other cleanup frequencies that you want.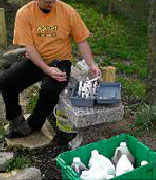 The Need for Professional Pond Cleaning Providers
Pond cleaning requires in-depth knowledge of the delicate ecosystem that fish ponds and koi ponds have. While it might be tempting to do the job yourself (either to save some dollars or turn it into a fun family activity), the results may not be what you expect. So to be certain of positive outcomes, it's vital to consider only professionals like us to do the job for you.
For one, we have the tools, knowledge, and necessary cleaning materials for this job. Our systematic approach to cleaning ponds allows us to work efficiently and guarantees clients exceptional results. Our personnel can clean your ponds without disturbing their local ecosystem. With us, you're assured that the koi and other fish species will not be harmed or disturbed. We have people who are certified pond installers, so they are also qualified to do pond cleaning.
Affordable Pond Cleaning Services
Among the biggest concerns of property owners when looking for pond cleaning contractors is the rates that they charge. Many Maryland clients are discouraged from hiring professional landscape services contactors because of their exorbitant charges. Fortunately, such is not the case when you hire Aquadon.
We actually have some of the lowest offered rates in the industry. We know fully from experience how countless commercial and residential property owners tend to stop short of actually hiring a pond cleaning provider when they are informed of the rates that they have to pay. Our rates are highly affordable and competitive. We believe that we are in the business not merely to earn dollars but, more importantly, to provide our clients with premium pond services. Our ultimate reward is to see clients like you totally happy and satisfied with the quality of service that we are able to provide you with.
Please dial (410) 924-1208 today, and let us bring back the beauty of your ponds with our pond maintenance services.
We provide ALL of our services in most of Maryland including the following counties, cities and towns (as well as the cities, towns and surrounding areas of those listed in Virginia):
Anne Arundel County
Baltimore County
District of Columbia D.C.
Davidsonville, MD
Severna Park, MD
Edgewater, MD
Towson, MD
Gibson Island, MD
Columbia, MD
Potomac, MD
North Prince Georges County
South Prince Georges County
Rockville, MD
Bethesda, MD
College Park, MD
Bowie, MD
Crofton, MD
Chestertown, MD
Kent County
Howard County
Glen Burnie, MD
Falls Church, VA
Alexandria, VA
Green Belt, MD