Our Services

Garden Ponds
Garden ponds, like many other water features, can help you feel relaxed and recharged after a particularly stressful or tiring day. And here at Aquadon, we understand the need to have such a stress-buster in homes, and we aim to provide our Maryland clients with the chance to own one without stretching their budget. NOTE: Our building seasons are Winter: December-March and Mid-Summer: June-August.
We service Annapolis, DC, Baltimore, Davidsonville, Severna Park, Edgewater, Towson, Gibson Island, Columbia, Potomac, Rockville, Bethesda, College Park, Easton, MD, Rehoboth, DE and neighboring cities in MD, DE and VA. Call us at (410) 924-1208.
Benefits of Garden Ponds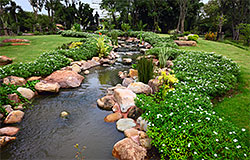 Apart from being a source of relaxation, a pond can also be a captivating focal point in your landscaping. If you like to hold garden parties, you can place a few strategic lights around your pond and seat guests around it. This is a much more welcoming arrangement than merely arranging tables and chairs in rows.
Meanwhile, homes with garden ponds are usually considered more attractive and better maintained than those with nondescript landscaping. And if you want to raise the value of your property, a garden pond with a multi-level waterfall within view of a window in your house is a great investment. Whether or not you will actually sell your property in the future, a garden pond is an excellent feature that can raise your property's resale value significantly.
The Right Pond for Your Garden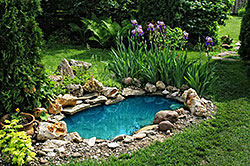 Garden ponds come in different shapes and designs. If you are thinking of adding such amenities to your garden, decide first what type of pond would best enhance your house and grounds.
You may want a pond with a fountain that sprays water into the air, or one that has a waterfall winding down from an attractive mound of rocks. Both would provide constant movement to oxygenate the water, as well as provide a very desirable soothing sound. You may also consider building a koi pond where colorful fish can swim gracefully amid well chosen plants and accessories.
Getting the Best Garden Pond
Aquadon will help you create the best garden ponds for your outdoors. For example, we can design a Zen pond for you – a refuge that will make use of simplicity, delicate balance, and ornaments. Just tell us your desired theme and we'll accommodate it accordingly.
Picking the right design and making sure it is installed well is the best guarantee you have that your garden pond will serve its intended purpose. As it is, many people have tried to create ponds by themselves; however, if you want to build a pond without any problem the best thing to do would be to invest in the services of reliable experts like us at Aquadon.
Experienced Garden Pond Builders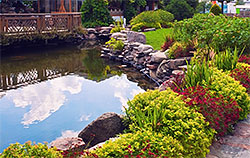 At Aquadon, we will make sure that you don't spend months on a ten-day project. We have been constructing garden ponds of all budgets and sizes since 1990, and we can help you avoid the headache of costly structural mistakes. Our experience in the field has allowed us to build a network of partners that makes it possible for us to consistently get the finest materials and the best plants necessary for our projects.
If you are seriously thinking of building garden ponds in your property, call us at (410) 924-1208 so we can work with you to build the ponds of your dreams. NOTE: Our building seasons are Winter: December-March and Mid-Summer: June-August.
We provide ALL of our services in most of Maryland including the following counties, cities and towns (as well as the cities, towns and surrounding areas of those listed in Virginia):
Anne Arundel County
Baltimore County
District of Columbia D.C.
Davidsonville, MD
Severna Park, MD
Edgewater, MD
Towson, MD
Gibson Island, MD
Columbia, MD
Potomac, MD
North Prince Georges County
South Prince Georges County
Rockville, MD
Bethesda, MD
College Park, MD
Bowie, MD
Crofton, MD
Chestertown, MD
Kent County
Howard County
Glen Burnie, MD
Falls Church, VA
Alexandria, VA
Green Belt, MD