Our Services

Filtration Systems Easton, MD
Property owners who have water features installed in their yard are easily annoyed or worried once their filtration systems suddenly fail. When left unchecked, they could lead to murky water and even death of aquatic plants and fishes (such as in koi ponds and water gardens). Surely, no commercial or residential property owner would want such a thing to happen. Not only is it costly, it could also be a constant source of annoyance and headache that could ruin anyone's day.
The Various Filtration Systems that We Install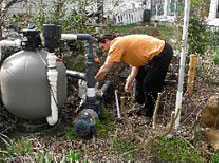 We at Aquadon Pond Services have been installing first-class water feature filtrations systems for clients in Easton, Chester, Grasonville, Kent Island, Centreville, and other Maryland cities. The brands and models that we carry are comprehensive and can accommodate every type of water feature there is. Accordingly, clients may simply choose from the following types of water filter systems:
Biofiltration. Biofiltration involves utilizing living organisms or bacteria that act as natural cleaners. Biofilters are essential to koi ponds and fish ponds, where getting rid of ammonia and nitrites is required to help keep fishes healthy and alive.


Skimmers. These filters effectively collect water surface debris and dirt that could compromise the health and beauty of the water feature. They are easy to install and can provide tremendous benefits to your pond or waterfall.


Bead.There are lots of excellent bead filters available in the market today, and we have access to the finest ones. Bead filters ensure excellent water quality through effective filtration. They are easy to install and do not require high maintenance to function effectively.


UV filters.Among the fancier yet very effective means of keeping ponds, fountains, or waterfalls free of algae, microorganisms, and other contaminants are UV filters. They may cost higher than traditional filters, but they are extremely effective in maintaining a healthy water feature environment.


Expert Filtration System Installation and Maintenance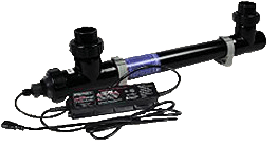 For years, we have been serving clients in Easton and several other MD areas, and we have always rendered exceptional results each time. Our people know which filtration systems work well on specific water features based on their years of experience handling such a task. They carefully study our clients' specific requirements and the needs of their installed water feature. With this setup, we can recommend the right brands and models of filters to use.
Our installation process is meticulous, and we never leave anything to chance but rely heavily on our extensive experience. We have access to the finest brands of filters, so you won't have to worry about not getting your desired filter system. More importantly, we warranty our work from defect and mechanical problems. So if you do call our attention to an apparent issue with the system that we've installed, we will provide repair or replacement -- free of charge -- if the fault is on us.

We also offer repair and maintenance assistance to clients. We have a wide range of spare components and even entire filter assemblies ready to troubleshoot our clients' filtration systems. We provide prompt response to emergency and scheduled maintenance works, so you'll surely have peace of mind and great working experience with our trained staff.
Premium Filtration Systems from the Experts
Getting the finest filtration systems for water features has never been this easy. All you have to do is call our hotline (410) 924-1208, and we'll be ready to address your concerns or request for installation, repair, or maintenance. We serve Easton and many other Maryland cities.
We provide ALL of our services in most of Maryland including the following counties, cities and towns (as well as the cities, towns and surrounding areas of those listed in Virginia and Delaware):
Anne Arundel County
Baltimore County
District of Columbia D.C.
Davidsonville, MD
Severna Park, MD
Edgewater, MD
Towson, MD
Gibson Island, MD
Columbia, MD
Potomac, MD
North Prince Georges County
South Prince Georges County
Rockville, MD
Bethesda, MD
College Park, MD
Rehoboth, DE
Bowie, MD
Lewes, DE
Crofton, MD
Chestertown, MD
Kent County
Howard County
Glen Burnie, MD
Falls Church, VA
Alexandria, VA
Dover, DE
Green Belt, MD